Day Camp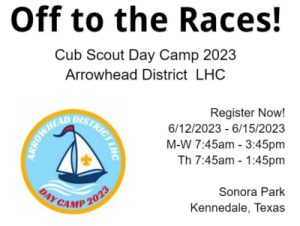 Registration is open. If you have a special situation (such as a brand new, recently registered scout), please reach out to Beth Simmonds.
---
Registration forms are ready! To register, you need to do a few things.
You are not registered for camp until both steps are complete!
Pay online at https://scoutingevent.com/662-68346-170554
Fill out a paper registration form and turn it in to your unit*
This packet contains wealth of information including times, cost, how to register, staff training dates, camp rules, and more. If there is anything you can't find in the packet, please contact Beth Simmonds at [email protected] or 214-885-0959.
---
* If you are interested in joining Cub Scouts, and you have not yet joined a Pack, please contact us at www.BeAScout.org and we will help you.